Vasanta Institute of Ayurveda
Near Pune, India
Welcome to the Vasanta Institute of Ayurveda center. This 10,000 square foot facility has an administration building, classroom, library, pharmacy, clinical examination room, kitchen, and dining room.
There is a separate Panchakarma two-room treatment facility with individual bathrooms and panchakarma residential building as well as a student dormitory with 10 double-occupancy rooms, each with individual bathrooms.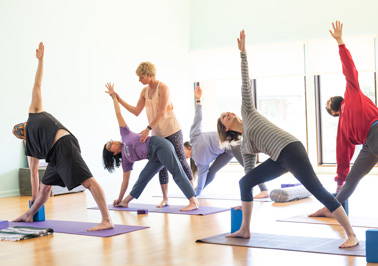 At 25-years-old Asheville Yoga Center has always been committed to creating and maintaining an environment in which all feel welcomed and engaged in the practice of yoga. Our Asheville community means everything to us - with students traveling from across the world coming to train and learn with our amazing teachers.
AyurPrana was founded in 2020 by students of Vasant Lad and faculty of The Ayurvedic Institute, to help bring the healing science of Ayurveda into homes across the world. With online immersions, webinars and courses on a range of topics AyurPrana offers beneficial training at all levels from Ayurvedic Practitioners looking to deepen their knowledge to those new to Ayurveda and hoping to begin their journey into self healing.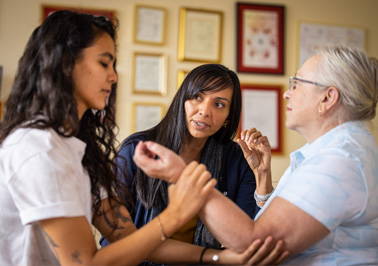 The Ayurvedic Institute was founded in 1984 by Vasant Lad, BAM&S, MASc. At The Ayurvedic Institute, we teach traditional Ayurvedic Medicine and provide ancient Indian therapies to help heal and maintain the quality and longevity of life. As a science of self-healing, Ayurveda encompasses diet and nutrition, lifestyle, meditation, postures, breathing exercises and medical herbs along with cleansing and rejuvenation programs for healing body, mind, and spirit.
Facility
VIOA Opening Entrance
The beautiful center is located east of Pune in the agricultural countryside. The entire facility has been built to Western standards of drinking water, bathroom design, and all around Western building architecture.
Client Housing
Self-healers, wellness enthusiasts, and clients stay in a building which has two floors with five double-occupancy rooms on each floor. Every room has its own private western style bathroom with shower, sink, and toilet. Each room has two beds, two locking wardrobe cabinets and two desks.
Classroom Entryway
The water system is designed similar to a small rural system in the United States and provides the same quality of water. Reverse Osmosis water is available in the dining room. If your digestive system is especially sensitive, we recommend you purchase and use one of the newer ultraviolet light "Steri-Pens" for your drinking water. These are available at most outdoor and travel stores in the USA. The center has solar heated hot water. Linens are provided.
Other Resident Housing
Residential volunteers and staff stay in this building. Every room has its own private western style bathroom with shower, sink, and toilet. Each room has two beds, two locking wardrobe cabinets and two desks.

The Vasanta Institute of Ayurveda (VIOA) is an Ayurvedic healing center located outside of Pune, Maharshtra, India. Under the tutelage of Vasant Lad, BAM&S, MASc, the institute educates its clients on Vedic modalities of healing such as Ayurveda, Jyotish, Vastu, crystal healing, healing through sound, marma therapy, and various panchakarma and rasayana procedures.
In partnership with The Ayurvedic Institute, AyurPrana supports the reservation and health screening process for VIOA. AyurPrana's customer care team will coordinate initial communications, confirm completion of all health documents and confirm acceptance into the program.