PARTNERING TO OFFER YOU THIS INCREDIBLE EDUCATIONAL EXPERIENCE
Study with Vasant Lad
.2022 Program Completed Offerings - Marma and Pulse Gurukula Courses
No 2023 In-Person Study Program Offerings @ VIOA
2024 ASP 3 - Gurukula Program
ASP 3 - Gurukula is an immersive, intimate program hosted in collaboration with The Ayurvedic Institute. A small cohort of third year advanced students will live an Ayurvedic lifestyle in community, practicing together to live into the teachings of Ayurveda in your daily routine, diet, lifestyle, and relationships.
Dates: August 25- Nov 1, 2024
Accomodations @ VIOA
Not open to Public
Pre-requisite: ASP 3 Student @ Ayurveda Institute
ASP 3 - Gurukula 2024
In-person training - Pune, India
The Ayurvedic Institute is a school committed to providing the highest quality training programs to support its students in becoming competent and confident Ayurvedic counselors, practitioners, and doctors. Now in its 38th year, the Ayurvedic Institute is a highly respected school whose mission is to to 'heal all beings through Ayurveda'. Over the years, thousands of students have passed through its classrooms and gone on to spread the healing message of Ayurveda all over the world.
Whether you're looking to deepen your knowledge as a means to support your own healing or you're interested in an Ayurveda Certification, we would love to be a part of your journey!
ASP 3 is a two year, full time course that can be entered into upon completion of ASP2 (or equivalent) that yields the Ayurvedic Doctor certification.
For graduates of ASP2 or equivalent programs, the Ayurvedic Institute is now offering the highest level of certification available in the West, Ayurvedic Doctor. In this two year program, Students of the program will strengthen their practical and clinical experience through dedicated observation and practice of various Western and Ayurvedic disciplines traveling all over the globe from New Mexico, Oregon and Pune, India.
As graduates of the Ayurvedic Studies Program, level 3, you will join the select few people in the West who have obtained this qualification through hard work and dedication to the ancient art of Ayurveda. As an Ayurvedic doctor, the world is your oyster! Working closely with medical professionals, complex client cases and operating a successful panchakarma clinic are all well within your scope of practice. 
ASP 3 students will study in India with Vasant Lad at the VIOA clinic in Pune and gain extensive clinical experience including how to conduct Panchakarma as well as engage in an immersive, intimate program.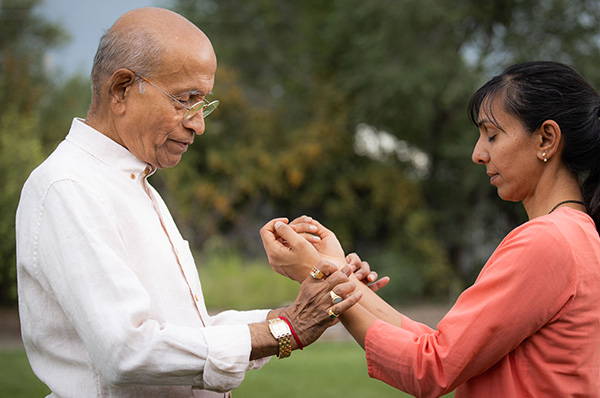 Dates: No current offerings
TBD
In-person training - Pune, India
No Bookings Available
2
Apply to the Program- TBD
What to expect
The Ayurvedic Institute's ASP 3 - Gurukula Programs are an opportunity for you to dive into the ancient healing science of Ayurveda. You'll have lecture time with Vasant Lad and our other experienced faculty to cover theory and develop practical skills.
ASP 3 - Gurukula is as an intimate, immersive program hosted at the Vasanta Institute of Ayurveda in Pune, India, in collaboration with The Ayurvedic Institute
With a small cohort of students, you'll live an Ayurvedic lifestyle in community, practicing together to live into the teachings of Ayurveda in your daily routine, diet, lifestyle, and relationships.
Traveling to India
This information is to guide you through the necessary documentation for immigration upon entry into India.
Passport: Each traveler is required to have a valid passport. Ideally, your passport should not expire within 6 months of your arrival in India.
Tourist Visa: Each traveler is required to have a TOURIST Visa (do not apply for a student or business visa). Documents for a general Indian Tourist Visa can take time, so apply in advance. Pursue this diligently to avoid certain restrictions that apply for last minute visas.
For Tourist Visa holders who wish to visit India within two months of their last visit, an application for a permit to re-enter India is necessary. No permit is needed if the visa holder is traveling to multiple countries on the same itinerary and the trip follows the itinerary exactly. The visa holder must carry a copy of the itinerary to show the Immigration Officer. If you will fall into this category, please search on the internet about the current law.
Immunizations: Whether to receive vaccines or malaria prophylaxis is a matter of personal preference. No specific immunizations are required for entry into India, and no proof of routine immunizations is required. There are many different viewpoints on the risks and benefits of travel vaccines. See the US Centers for Disease Control and Prevention at cdc.gov/travel or consult with your health care provider.
Frequently Asked Questions
This is a unique opportunity to study with Vasant Lad in his native Pune, India and at the VIOA Center!
• We will welcome students with an orientation and chai on the Sunday afternoon prior to class start.
• We will provide transportation to / from Hotel Cocoon daily, a vegetarian lunch and a chai tea break are included.
• If you decide to stay elsewhere other than Hotel Cocoon, you can commute to this hotel for transportation to VIOA.
• We wil have opening and closing puja ceremonies to welcome and sendoff students.
• All students will receive a certificate of study completion on the last day.
• Class will be held Monday - Thursday leaving weekends from Friday - Sunday open to explore the local area at your own expense.
• There will be no class on the final Thursday afternoon to allow for exploration and trip finalization.
• This is not just a classroom experience with some client observation, but also a true Gurukula culture exchange where students will also gather by the teacher to learn and absorb whatever is discussed.
• If time and coordination permits, there may be opportunities to visit the Pune Pranav Clinic, which will be organized by onsite staff at the time. Again, this is not a guarantee a visit to the clinic for observation will be possible, but we will try to organize a few experiences there.
PLEASE NOTE: All travel, accomodations and added expenses will be your responsiblity.
Applicants for these programs do need to have studied Ayurveda in the past. Unfortunately, these offerings are not suitable for those new to and beginning their Ayurvedic journey.
The content will be similar to the previous webinar series and Vasant Lad's teachings. However, learning the art of the pulse or marma is a life-long journey of discovery! The more you work with these techniques the more you begin to sense. Practicing and studying in a group with the guidance of Vasant Lad in person will support a deeper understanding that will further evolve your art and skill.
Classes and consult observations will be held Monday - Thursday from 10am-12pm and 2-4pm generally. Please keep in mind that India is a land of uncertainty and unknowns therefore we ask that students remain somewhat flexible in the daily schedule. We will try to stick to the scheudle above, but again we ask for grace and ability to adjust if circumstances arise. Also keep in mind that you will be in communicty with other students, so we ask that you observe classroom etiquette. VASANT LAD WILL NOT PROVIDE PRIVATE CONSULTAIONS DURING THIS PROGRAM.
Vasant Lad will not be providing private consultation as a part of this program. If you're interested in a Panchakarma treatment, please learn more andregister here.
To ensure your safe arrival and departure to and from the VIOA Center; we will offer a meet up spot atHotel Cocoonto pick you up and drop you off during the specified arrival and departure times. All other transportation will be your responsibility.
Masks are required on campus and during transport to / from campus.
Due to the careful planning and preparation required for our VIOA programs and the nature of international payments - these products are non-refundable unless our team determines you unfit for the program during the screening process. Please make sure that you are ready to commit to attending before purchasing this program. If you have any questions or queries on this refund policy please reach out to us atcare@vioa.in
Other Information and Resources
Travel tips for Pune
For detailed information on traveling to Puneclick here.
COVID protocol
Read about our COVID policieshere.

The Vasanta Institute of Ayurveda (VIOA) is an Ayurvedic healing center located outside of Pune, Maharshtra, India. Under the tutelage of Vasant Lad, BAM&S, MASc, the institute educates its clients on Vedic modalities of healing such as Ayurveda, Jyotish, Vastu, crystal healing, healing through sound, marma therapy, and various panchakarma and rasayana procedures.
In partnership with The Ayurvedic Institute, AyurPrana supports the reservation and health screening process for VIOA. AyurPrana's customer care team will coordinate initial communications, confirm completion of all health documents and confirm acceptance into the program.